Hello everyone
It's been 2 weeks since my last blog – I have sent out so much information I thought you might need a bit of time to watch some of it before sending out more. 
Today is a gloriously sunny day in Glasgow and like most of you I am itching to get out of the house.  As Scotland starts to move through the various stages of lifting lockdown, there are still lots of questions to be answered about how we reopen theatres and deliver live entertainment whilst maintaining social distancing – both for our audiences but also for actors.  Many discussions are going on but with The Lyceum in Edinburgh announcing that they will not reopen until 2021 I think we all recognise that this is a marathon and not a sprint.
The UK Government has put a callout for people to contribute to research on the impact of COVID19  on culture and the creative industries.  The deadline for submitting evidence is 19 June 2020 and if you want to have your say you can follow the link here
We are all discovering possibilities with digital and online performance, but I for one can't wait to get back on my feet in a room with other people exploring drama and having fun.  However, we have to work with what we have and I am delivering my first digital workshop this weekend with 8 participants exploring performing monologues.  Fingers crossed all goes well and this will be the first of many online workshops.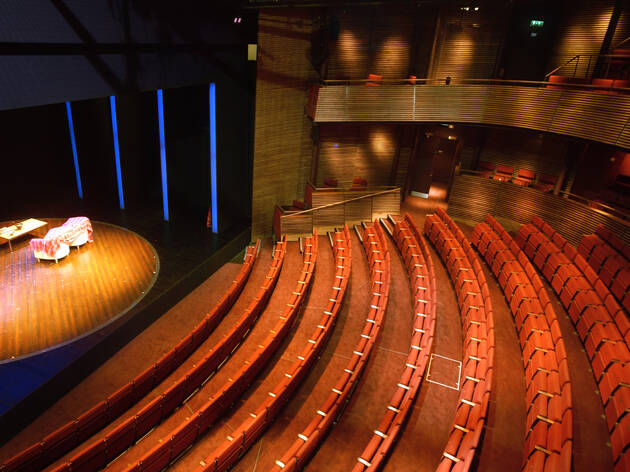 Hampstead Theatre Auditorium
Before I leave the subject of monologues (which are naturally becoming extremely popular at the moment), Hampstead Theatre have a great series of podcasts through Mono Box with some of the finest acting talent across the UK.  As well as talking about a standout play, they perform their favourite monologues – such a treat for the ears.  Feels like a series of masterclasses in how to perform a monologue.  Just gorgeous!!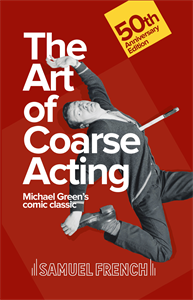 The Art of Coarse Acting, first published in 1964, has been released as a downloadable podcast. Its narrator is none other than the author himself, Michael Green, who recorded it shortly before he died in 2018 at the age of 91.
The success of Green's book led to a whole spate of bespoke Coarse Acting plays.  So successful were the Coarse Acting Championships that Green put together a "best of" compilation and took it up to the Edinburgh Fringe where the two-week run sold out on the first night.  It was allegedly the inspiration for the massive West End hit The Show That Goes Wrong 
Green's catch-all definition for a coarse actor was "one who can remember the lines but not the order in which they come," though his wonderfully entertaining book contains any number of defining traits, from "bringing down the scenery by forcing a door that won't open" to "nabbing the early exit parts in order to spend more time in the pub."
The Art of Coarse Acting 50th anniversary edition is available from Samuel French Ltd. and the podcast is available to download from Audible
Nick Hern Books have published some guidance and recommendations for performing plays online please following this link  The FAQs page is very helpful and makes clear that broadcasting of their plays online must be password protected and not public.  However, you can charge people to view your play.  There are still lots of things you will need to consider but it is a good starting point.  I know that there are other publishers who will have different T&Cs so it is worth looking around. 
It is inevitable that there will be an increase in flexibility for performing plays online until we can move back into performance spaces.  I will pass on any new information that I find out as soon as I can.
Understudy is a brand new online play starring Stephen Fry and Russell Tovey.  The play was released in 2 live events and both are now available to watch.  The cost is £5 in total and all proceeds will be split between Acting For Others, the Equity Charitable Trust, Equity's Benevolent Fund and The Theatre Development Trust, run by the Society of London Theatre and UK Theatre.
Thanks to Robin Smith for pointing me in the direction of the Theatre Centre and their project ImagiNation.  19 of the UK's most exciting writers have written a collection of stories for the nation and there are some great writers here so well worth a look!
West End Live will stream highlights from the last 5 years of their annual celebrations over the weekend of 20 & 21 June.  They will only be available for 24 hours so get the dates in your diary now or you'll miss out!
Wrning!!  My feel good moment is here – enjoy
Hope you have a good week.
Stay Safe, Stay Connected and Be Creative
Carole
Disclaimer
Although every care has been taken by SCDA in the recommendation of these resources, they exist on external servers outwith the control of SCDA and they have not been subject to detailed evaluation. Accordingly no guarantee is given by SCDA as to their suitability. SCDA shall not be responsible or liable for any loss or damage whatsoever arising by virtue of accessing these links.